Podcast: Play in new window | Download
Subscribe: Google Podcasts | Spotify | Email | TuneIn | RSS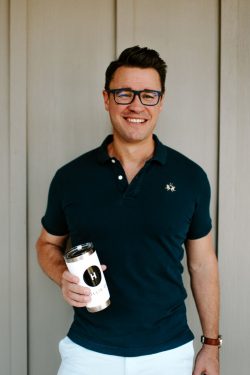 I'm so excited to share this interview with one of my digital mentors and someone I respect greatly, Dave Hollis. When Dave Hollis's wife, Rachel, began writing her #1 New York Times bestselling book, Girl, Wash Your Face, he bristled at her transparency and her willingness to talk about such intimate details of their life. But when a looming career funk, a growing drinking problem, and a challenging trek through therapy battered the Disney executive and father of four, Dave began to realize he was letting untruths about himself dictate his life. As he sank to the bottom of his valley, he had to make a choice. Would he push himself out of his comfort zone to become the best man he was capable of being, or would he play it safe and settle for mediocrity?
In this interview we unpack some of the many peals found in Get Out of Your Own Way, and Dave tackles topics he once found it difficult to be honest about, things like his struggles with alcohol, problems in his marriage, and his insecurities about being a dad. Dave helps us see our own journeys more clearly as he unpacks the lies he once believed—such as "I Have to Have It All Together," "Failure Means You're Weak," and "If They Doesn't Need Me, Will They Still Want Me?"—and reveals the tools that helped him change his life.
In this episode, Dave offers encouragement, will challenge you, and even provides a few moments where we laugh at ourselves as fathers. Dave points the way for those of us who are, like he was, skeptical of self-help but wanting something more than status quo, and helps us drop bogus ideas about who we are supposed to be and finally start living as who we really are.