Podcast: Play in new window | Download
Subscribe: Google Podcasts | Spotify | Email | TuneIn | RSS
The Millennial generation is creating a paradigm shift in parenting, the workplace, media and marketing. Understanding the Millennial mindset and what drives this generation is an elusive task that has parents, employers and marketers all trying to "figure" it out. In this conversation, I decided to go straight to the source and ask one of the most socially connected Millennials I know about the mindset of his generation and what drives them.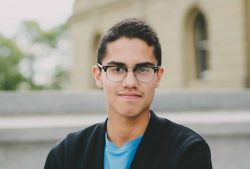 Swish (Manu) Goswami, 22, has built a multi-hyphenate career. He is a serial tech entrepreneur (CEO & Founder of Trufan), LinkedIn Youth Editor, three-time TEDx speaker (signed with the Speakers Spotlight & The AAT Project), and UN Youth Ambassador.
Swish has been recognized for curating the world's first youth social capital fund and an application to fight malnutrition on college campuses. He has been awarded the United Nation's Outstanding Youth Leadership Award, Startup Canada's Young Entrepreneur Award, and Plan Canada's Top 20 under 20. Swish has also been recognized as a top LinkedIn creator with over 100M content views and as the "Face and Future of Canadian Entrepreneurship" by UPS Canada.
Swish has previously worked as a Fortune 500 consultant (for Google, Western Union and American Express), and venture capitalist (at JB Fitzgerald Venture Capital founded by NBA player Trevor Booker).
Beyond working to grow his companies, Swish sits on the advisory board for numerous companies including the League of Innovators (charity started by Hootsuite CEO Ryan Holmes) and Dunk Media (11M follower network focused on basketball). He is an investor in the world's most popular eSports organization FaZe Clan, the creator of a limited edition shoe with K-Swiss and the author of an upcoming book that will be released through U.K. publisher Kogan Page.
As a former debater who represented Canada twice at the World Schools Debating Championships, Swish also has a passion for public speaking. He has given three TEDx talks and has spoken at American Express, the United Nations, Staples Center, Haste and Hustle (alongside Gary Vaynerchuk and Richard Branson), Harvard University, IIT Bombay, Wall Street Journal, and the World Business Dialogue.
He's always looking to speak about mental health, entrepreneurship, social media marketing at schools, events, and festivals.